An introductory lecture begins Monday morning followed by riding.During the first two days of each session, campers are assessed by the instructors as to their experience and ability and are placed in the appropriate riding group. Each child has a horse to groom and look after during the session but campers ride all of the school's horses.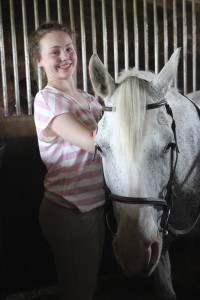 Children are supervised at all times and the barn is strictly off limits without staff present. For safety reasons, it is required that all campers have boots with a definite heel and an approved riding helmet. Lessons or rides are held twice daily and consist of groups of approximately five campers per group. In the evening counselors provide activities for campers to take part in which may or may not be horse related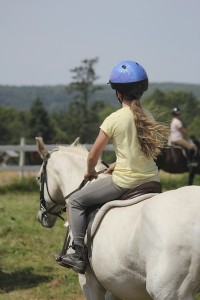 My daughter has had the best experience she has had so far in her life. Her riding skills are triplefold and her self confidence quadrupled. I would recommend your camp to any child. Thank you for a wonderful two weeks. Happy days. Tessie , Hugh Mac Farlane – Antigonish"
Treats and snacks are provided for all the campers. Since we are in the country, treats are not encouraged in the cabins or sleeping areas as they attract unwanted visitors. We are trying to promote healthy living and kids are eating junk food before meals, even breakfast. If you feel you have to send something, please send fruit or extra drinks. Our water is tested at the start of the season and campers are encouraged to bring a water bottle and drink plenty.
Please do not bring cell phones or DVD players. This is camp and should be a break from the electronic world!!! 
MANDATORY AT CAMP – Approved helmet, rubber/leather riding boots or boots with a definite heel. Grooming kit- Dandy or body brush, hoof pick and lead rope.