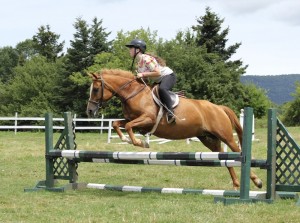 Horsemanship Program?
 Progressive amount of riding-instruction in dressage, jumping, supervised free riding, trail rides and pony games.

Instruction and daily practice in care of horses and tack. Each camper will have a horse to look after and will be involved in two lessons or rides per day.

Arrival time 5:00 pm-6:00 pm Sunday. One week session, departure is after 4:30 pm Saturday . Arrival after 6:00pm for 2nd week.

Air travellers, arrival and departures as close to midday Sundays as possible . Please advise in writing or e mail flight information.

Certificate and Horse Show on the last Saturday of each two week session between 2:00 and 4:00 p.m. Everyone Welcome!!

Privately-owned Horses?Campers may bring their own horses. Please inquire about conditions.  

Swimming? Under supervision of a Bronze Cross lifeguard, swimming is participated in as an activity in our in ground swimming pool.

Accommodations?-Campers reside in three bunkhouses along with staff. Each cabin is carpeted with screened windows and doors. Meals are eaten in the dining hall and are home cooked, well balanced and tasty! Accommodations are immediately outside the farmhouse. Suitcases should fit under bunk beds.

Our water is tested annually , smoke detector batteries changed prior to camp, annual visit from Dept. of Agriculture- Food Inspection.
To avoid disappointment, please mail registrations in as soon as possible , with all fees paid by June, unless arrangements are made with the camp director for special circumstance.